Adult Family Home Gig Harbor
Come Home to the Quality Care You Deserve
Here at Harbor Heritage AFH, an Adult Family Home provider in Gig Harbor, we are committed to giving you or your loved one the quality, dignified, and compassionate care you or a loved one of yours deserves above all. It is our philosophy that "our home is your home" as long as your senior relative or friend is staying with us. We are highly qualified and equipped to care for seniors and those needing 24/7 care, for most senior-related conditions or ailments they may have. This transition period of moving a loved one into senior care can be challenging and difficult, but we are here to ensure that they are cared for according to their exact needs with dignity and empathy. Our adult family home model allows us to get to know each resident closely and provide for them not just based on a checklist of items, but as a friend who we hold dear.
We provide a warm, furnished living environment and you can bring all your favorite items to make it feel like your "home". Family is always welcome and encouraged to visit as frequently as possible. We insist on excellence in our nursing staff to ensure you or your adult family member have qualified assistance in a private home-like environment in beautiful Gig Harbor, WA in Pierce County. Our caregivers are on staff 24 hours a day and are always at your or your family member's service with our round the clock care. Each one of our three homes is fully equipped to house seniors safely, and comfortably.
Gig Harbor Adult Family Home
Jason and Trisha Weron have been residents of Gig Harbor in Washington for over 40 years. We have two sons, William and Joseph. Trisha and Jason have many years of experience in senior care services prior to owning Harbor Heritage AFH and we are both committed to quality, compassionate care for the elderly. In over 10 years in business, we have had the opportunity to care for seniors from all walks of life, and we know and understand the needs your loved ones have. We have the experience to know what kinds of problems can arise for seniors at all levels of health, with the empathy and passion to address each resident's unique needs individually.
Our Adult Family Homes provide an environment for seniors that feels comfortable and relaxed, more like the places we've all grown up in. Being located in beautiful Gig Harbor of Washington allows each of our Adult Family Homes to hold a serene and quiet atmosphere. The downtown of Gig Harbor also boasts many lovely shops to visit, and plenty of small parks along the harbor. This is a wonderful place to live no matter your age, but especially for those in need of a peaceful place to live their best lives. Tacoma is still just across the bridge as well, so if you need to still be within reach of the city for medical appointments or just to be close to family, Gig Harbor is a great choice. The town of Gig Harbor is welcoming, safe and an excellent place to be and we are glad to have all three of our homes located here.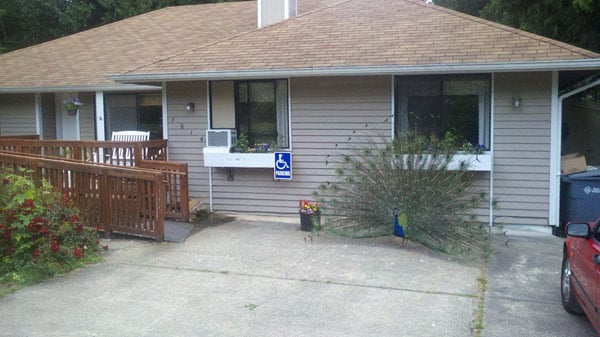 Adult Family Homes Gig Harbor WA

All nursing and staff members must meet strict requirements to be employed at Harbor Heritage Adult Family Home in Gig Harbor. We hold regular staff training and continuing education to make informed reviews, and ensure the best for our residents. We also have invested in the best facility equipment and supplies to ensure that each resident can always be taken care of at a moment's notice. There is always someone available to assist our residents at any time of day or night, even if it's just to reposition for more comfortable sleep for residents who need help with mobility. They are also equipped to provide most basic daily or common needs, including medication administration, mobility assistance feeding assistance. We can also administer oxygen care if needed to care for a resident's condition, or minor stable wound care in the event of an injury. Each facility of ours specializes in nursing care for:
Dementia

Alzheimer's

Memory-care 

Mental health

Parkinson's

Stroke-care 

End of life care 

Diabetic care
Dysphagia care
If you are thinking about making the choice to find a nursing home or assisted living option for your loved ones around Puget Sound Washington, come tour the Gig Harbor community in Pierce County and and consider one of our Adult Family Homes as one of your care options instead. We can assist in making skilled reviews of your needs, and will make sure all of the details are understood. Each Gig Harbor Adult Family Home has a complete staff, and strives to provide the best senior living care in the state. An adult family home offers the personalized care that exceeds that of a nursing home or assisted living service. We are proud to be part of the new wave of adult family homes offering more options to families who want their loved ones to live in dignity and have high quality care. Here, we have further reading on the differences between Adult Family and Nursing Homes if you need more information.
For more information about any of our Gig Harbor Adult Family Home locations or the services we offer, please call us at 253-525-2288 and we will answer any questions or concerns. We would love to talk to you about placement availability and make sure you have all the information you need. Even if you don't feel that an adult family home is the right fit for you, or if all our homes are full at the time you contact us, we would love to help you find the best choice for your senior's needs and point you in the right direction. We are deeply involved in this community and know the best providers in the nearby area that would also do a good job caring for your loved one.